Regular Bus Service
Dundrum – Rathfarnham – Templeogue – Tallaght – Clondalkin to NUI Maynooth
All Groups Welcome
If you require Coach Hire for your Clients, School Trips, Sporting Events, Staff Outings, Social Club, Golf Trips, Weddings/Special Occasions, Airport Transfers and Religious Excursions we would be happy to supply excellent, reliable coaches to transport your group safely while offering competitive prices and professional drivers.
WiFi Access
WiFi is now available on select Coaches.
Testimonials- Tom Murphy – Driver Extraordinaire
This is Cathy and Richard Smith and we had the privilege of being on the Rambler trip that finished in Dublin on 26th August 2015.  We felt we had to write to say what a wonderful, knowledgeable, humorous, caring, careful driver Tom is.  We feel very lucky to have had such an entertaining guide for what he made into a fantastic holiday.  Please pass on our grateful thanks to Tom for providing us with such a wonderful time in beautiful Ireland.  Yours very Thankfully,
Cathy & Richard Smith, Ontario, Canada
Testimonial – National Tour Guide
I worked with Gareth last year when he drove an Italian group around Ireland on a tour for Slevins and Panorama, Scotland. I always wanted to compliment him and let you know that he's one of the best drivers I've worked with. He's very considerate of clients, very knowledgeable of Ireland's roads and completely unselfish. I hope to work with both Slevin's Coaches and Gareth in the future.
Testimonial
I work as a Freelance Tour leader and have worked with Mick Drew both times.  As a tour leader a big part of the job is done if I have a good and cooperative driver.  He is good in all parts of the job and has a fantastic personality that also makes the clients love him.
Best regards, Brian Hansen
Testimonial
My family and I were part of a larger family vacation last month to your wonderful country.  There were 16 of us. We were delighted with our driver and coach and this really made the trip for us.  I t really was a trip of a lifetime that none of us will ever forget.
Pete , Texas, USA
Testimonial
My colleague Marnix De Wit and I, want to thank you for the perfect transportation services you provided our group of students last week between Dublin and the West Coast of Ireland.  In the person of our driver guide Robbie, we found a loyal, punctual, well-informed, polite and entertaining man.  Give lots of Belgian Thanks to your good driver!
Luc Van Hende, Instituut Mariagaard, Belgium
Testimonial
Just wanted to say a huge thank you to our driver for putting up with 20 of us last week around Kerry.  He was such a gentleman and made sure to mind us for the whole week.  We will be definitely be booking Liam again for our next trip.  Please pass on our huge thanks to him.  With regards and loads of love to Liam from all on the Kerry tour!!
Anne
Testimonial
I recently took my womens college soccer team on a trip to Ireland.  I just wanted to let you know what a great impact your driver had on our trip.  He was the most patient driver I have ever dealt with on a tourand really went out of his way to make my group feel comfortable and welcomed into Ireland.  He took the time to get to know everybody and enjoyed the craic with them.
Dolores, JCJC Women's Soccer
Testimonials
I just wanted to send a brief note complementing you on the great service you supply on the service to NUIM, in particular the lovely driver Tom.  My daughter has been using this service since last year.  In this day and age where services sometimes fall short of what has been promised Tom and Slevins have exceeded expectations….THANK YOU
Michelle O' Toole
Testimonial
Our party of six were in Ireland from August 29 to September 9th and greatly enjoyed having Robbie as our guide and driver.  He is delightful and quiet knowledgeable.  We have many fond memories of Ireland and Robbie is one of the best.
Johnsey and Alfreda Leef
As members of the Coach Tourism and Transport Council of Ireland, our vehicles are inspected and approved to meet the highest standard.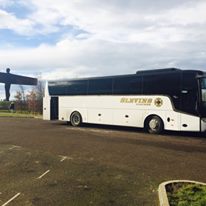 Coach Hire
School Tours
Private Coach Hire
Corporate Coach Hire
Events and Festival
Sports Team Transport
Conferences & Events
Airport & Hotel Transfers
Sporting Event Transport
Golf Outings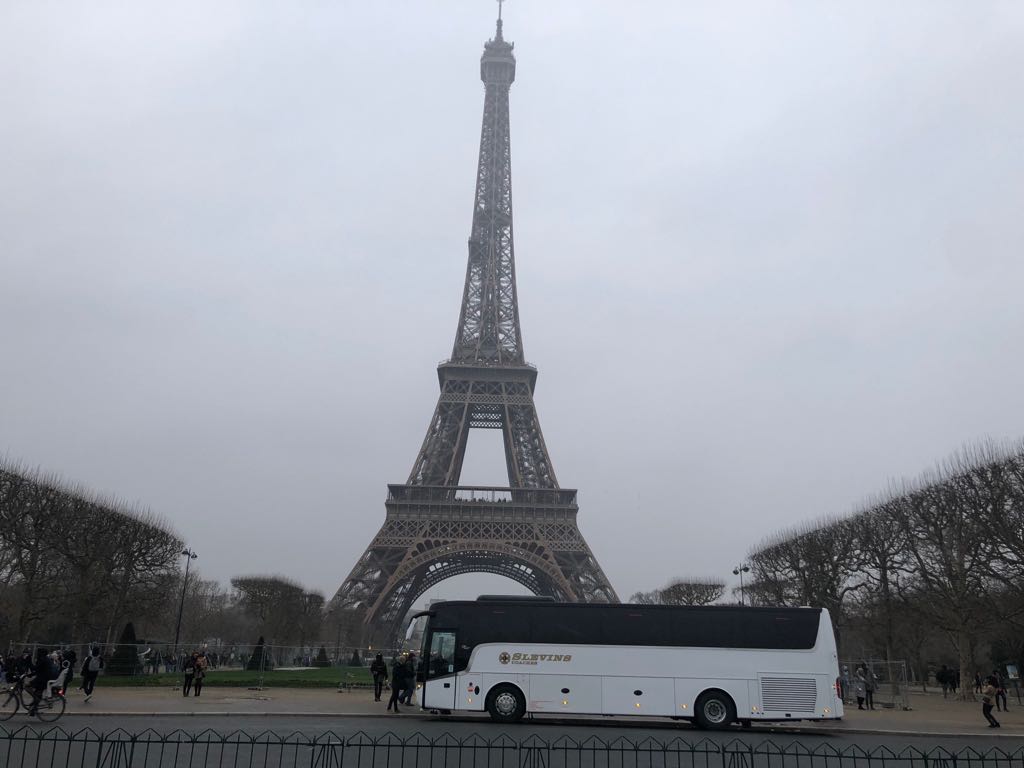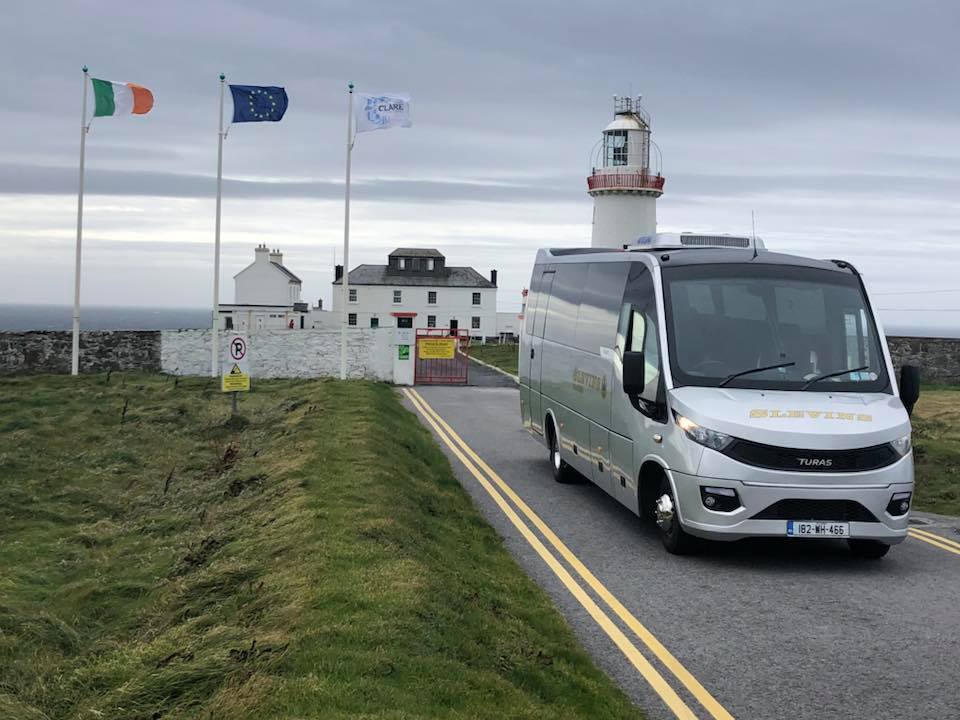 Tours & Day Trips
Weddings
Concert Transportation
Shopping Trips
Sight Seeing Tours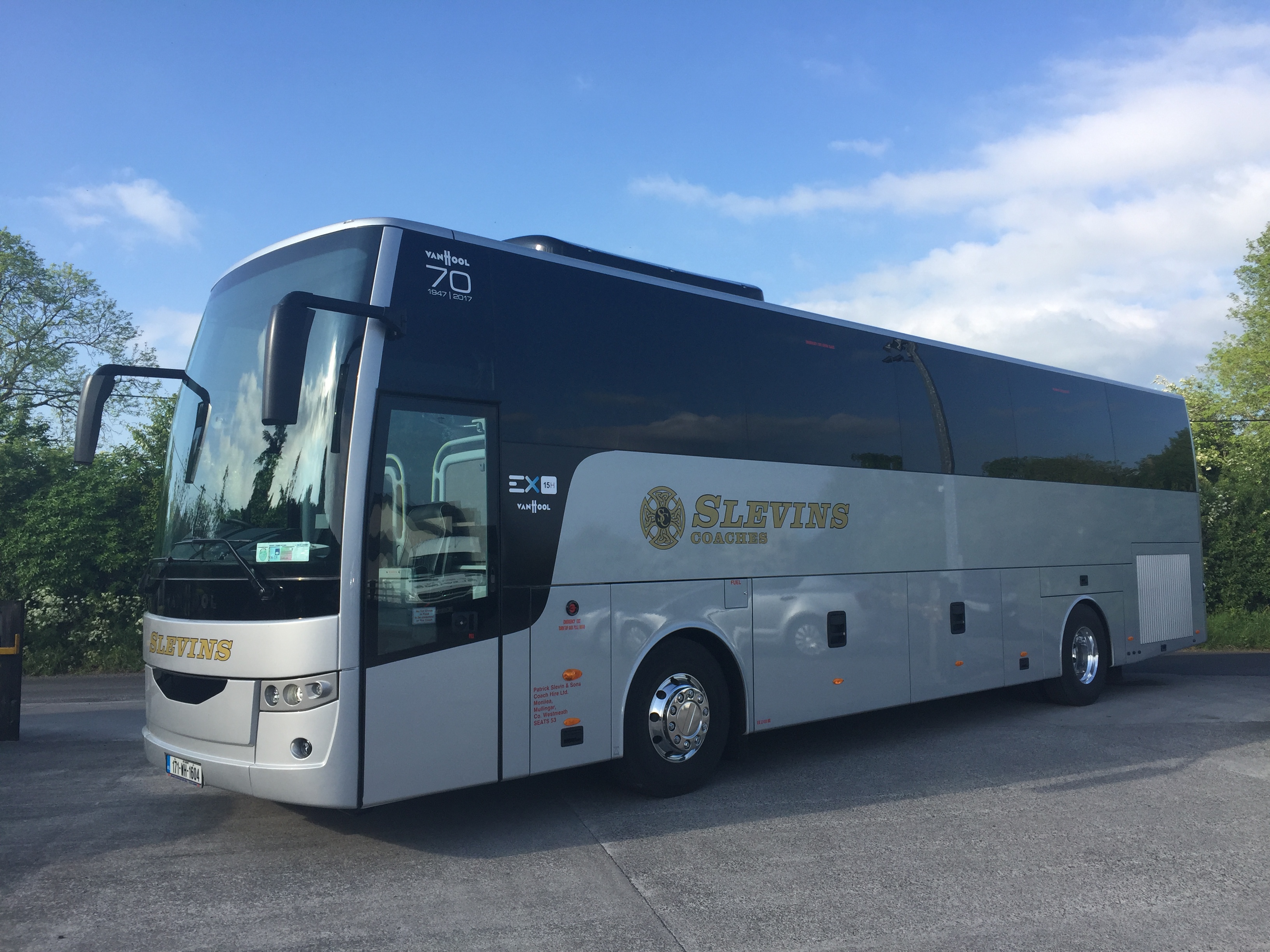 We operate services throughout Ireland & the UK